Do you know how healthy you really are?

No one ever says, "I want to depend on someone else for care when I grow older."
What if you could do something today to prevent that from happening?
If you currently don't feel healthy enough mentally, emotionally and physically to experience and enjoy everything that life has to offer—how do you expect that to change as your age? Poor health can wreak havoc on all aspects of your life, depriving you from having a QUALITY experience.
Stop the warning signs in their tracks before they stop you!

---
What makes our nutrition program unique?
Starting with a consultation, Dr. Baird will determine what objective tests would be most beneficial in your case.
Combining these individualized results with other diagnostic tools, we are able to perform an in-depth analysis of your body.
This analysis outlines any problem areas –minor & major conditions that if left untreated, may lead to serious illness, diseases and more.
Your individualized, detailed report will clearly explain specific dietary, lifestyle and nutrient recommendations based on the diagnostic test results.
Just like a finger print, your blood chemistries and metabolism are unique. Our program is designed with that in mind.
---
The Difference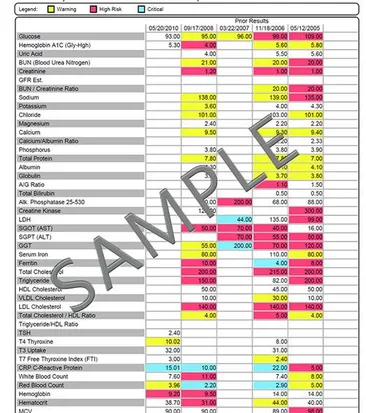 Most blood tests ordered by primary care physicians are compared to "Clinical (Normal) Ranges" via your results report. If you are within the "Clinical (Normal) Range" you will most likely be told you are normal, which can be confused with being healthy. It does not necessarily mean you are healthy, as many people incorrectly believe.
Why not? The problem lies in how Clinical (Normal) Ranges are determined...
All practitioners are taught a normal "physiological range" as part of their training. These physiological ranges may vary slightly from text to text, but remain closely similar in numerical value. The physiological ranges are considered to be the "optimal" or "healthy" range of human function. The clinical ranges used on lab work will have blood work performed through their practitioner only to be told their lab work is "normal". The issue is that the reference ranges used by labs today are not the optimal or healthy ranges practitioners have learned. Labs routinely update the reference ranges by averaging a sample population over a period of time to produce a "clinical range". Since most people who are symptomatic are those having lab work done, they tend to widen the clinical range with each updated calculation that includes a standard deviation on both the high and low side, further increasing the range. The current reference ranges used today by all labs (and each lab has their own calculations) include a portion of the sick population. SBN holds to the optimal healthy range established in the texts used to teach practitioners to this day.
Does it make sense to compare your blood test results to averages taken from people who were already experiencing a symptom? No. That is why being "normal" is not good enough! Normal blood test scores simply mean you are not yet as sick as the other people used to determine the normal range.
What if we look at a patient's blood test more closely? SBN incorporates an "Optimal" or "Healthy" range in our reports. The Optimal Range simply takes the middle 20% of the Clinical Range. It's designed with the concept of not waiting until a patients test result is "Clinical" to consider nutritional support or lifestyle changes. The point of the Optimal Range is to "flag" tests that are heading towards Clinical. Wouldn't you want to make minor changes now to avoid big problems later? PREVENTION: That's the whole idea.

---
The Smart Solution
The Science Based Nutrition™ program is an innovative and objective approach to testing an individual's health status. Through a combination of blood, urine and hair analysis, we can identify nutritional strengths and weakness that are preventing optimum health.
The SBN report provides individualized, drug-free recommendations to promote optimum health based on imbalances and dysfunction identified from the diagnostic test results.
No general screening test is more efficient, effective and affordable than the SBN comprehensive blood chemistry panel.
Blood tests ordered by primary care physicians look at a small window of markers to only scratch the surface of what is going on. SBN looks at 53 essential markers to determine overall health.
Wouldn't you want to spend your money more effectively?